Chûsei Sone – Maruhi: joro ichiba aka Secret Chronicle: Prostitution Market (1972)
on
September 25, 2015
at
09:29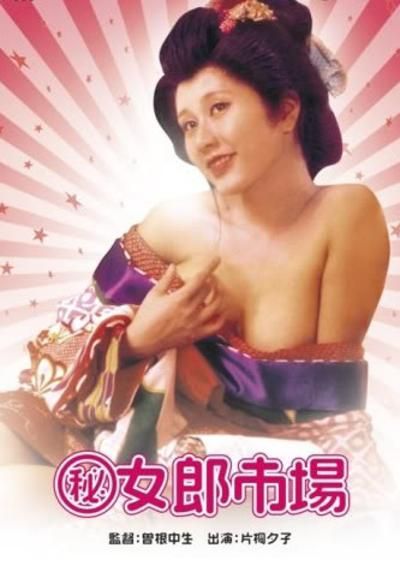 IMDB User Comments wrote:
Laughed Until It Hurt!, 17 December 2001
Author: david melville (dwingrove@qmuc.ac.uk) from Edinburgh, Scotland
WARNING: This review reveals some plot points!
I saw this film on late-night British TV (where it was retitled 'The Virgin Courtesan') and can honestly say I haven't laughed so much in years! It plays like a raucous soft-porn parody of 'My Fair Lady' or 'Born Yesterday.' A wide-eyed innocent ventures into a corrupt, alien world – and reduces it to a shambles with her own brand of goofy integrity. Any plot summary makes it sound gross, gratuitous and offensive. How can we laugh at a film where a 'mentally challenged' girl gets sold into prostitution? Especially one that includes a long and drawn-out 'comic' rape scene akin to Almodovar's 'Kika'?
Incredibly enough, laugh we can and laugh we do. The humour is raunchy and outrageous – and often very black. Yet director Chusei Sone has an elegance and lightness of touch that ensures it's never vulgar and (more important, perhaps) never cruel. Not even a closing act of necrophilia can shatter the film's overall good spirits, or our liking for its 'dumb but honest' heroine – whose naivete about sex and her own body makes her an unlikely feminist figure in patriarchal 19th century Japan. This film is a gem!
Truly Funny Nikkatsu Pinku/Comedy…,, 1 December 2006
Author: EVOL666 from St. John's Abortion Clinic
*** This comment may contain spoilers ***
So you've watched all the sleazy, violent, misogynistic, rape-oriented pinku material you can handle and ya want something different, right? Well, personally, I can't get enough of the sleazy pinku stuff – but SECRET CHRONICLE: PROSTITUTION MARKET is a fun departure for fans of the genre looking for something a little different and perhaps "lighter". I wasn't sure how a Nikkatsu comedy would work out – but honestly, this film is pretty damn funny – if also totally Un-PC in it's subject matter.
Apparently, the whore business was really booming in Japan back in the day – so much so that "whorebrokers" used to go from village to village searching out the best cooch to bring back to the local towns to stock the brothels with. One famous whorebroker finds a semi-retarded young lady that has all the right "equipment" (something about earthworms and eels that I assumed was some sort of innuendo for her puss…) and buys her on the cheap. Unfortunately, this simple young lady has no idea what whorin' is all about, so once thrown into the job, she has no idea what to do – leading to some truly hilarious scenes involving a sumo wrestler, a scar-faced pretty-boy, and a bull, to name a few. When none of her "tricks" turn out right, the madam gets fed up and sad and dejected, the girl runs away. She runs back into her original whorebroker, who she's grown to have some affection for, and he returns her to the brothel and shows the madam himself that she's a keeper…
There's too much that goes on in SECRET CHRONICLE: PROSTITUTION MARKET for me to accurately do it justice – suffice to say that it's a funny film that will be of special interest to hardcore pinku fans. There's still plenty of nudity and whatnot on display so you won't feel gypped in that department, and the lead actress (whose performance as a simpleton is both "genuine" and endearing) is pretty damn sexy too. The ending changes tone quite a bit and is actually quite sad – but it involves a scene of necrophilia, so that's just another plus in my book. A fun film that is definitely worth checking out…8.5/10
http://www.nitroflare.com/view/D5F1ED5D32C3252/Secret_Chronicle_-_Prostitution_Market_-CG.mkv
http://www.nitroflare.com/view/F9F46BCD763A415/Secret_Chronicle_-_Prostitution_Market_-CG.idx
http://www.nitroflare.com/view/8E988938970F4EE/Secret_Chronicle_-_Prostitution_Market_-CG.sub
http://keep2s.cc/file/f72bdc2c2bbc6/Secret_Chronicle_-_Prostitution_Market_-CG.mkv
http://keep2s.cc/file/71038ad061bf6/Secret_Chronicle_-_Prostitution_Market_-CG.idx
http://keep2s.cc/file/5563832926aef/Secret_Chronicle_-_Prostitution_Market_-CG.sub
http://rapidgator.net/file/afb85b8de25a8cc23f1b1c2684cf7a99/Secret_Chronicle_-_Prostitution_Market_-CG.mkv.html
ttp://rapidgator.net/file/d6d13287acbcd1a792454724874f18c7/Secret_Chronicle_-_Prostitution_Market_-CG.idx.html
http://rapidgator.net/file/e9bba4855f4788d0840947f5a1666ac3/Secret_Chronicle_-_Prostitution_Market_-CG.sub.html
Language::Japanese
Subs:English