Joseph W. Sarno – Young Playthings (1972)
on
December 26, 2012
at
12:02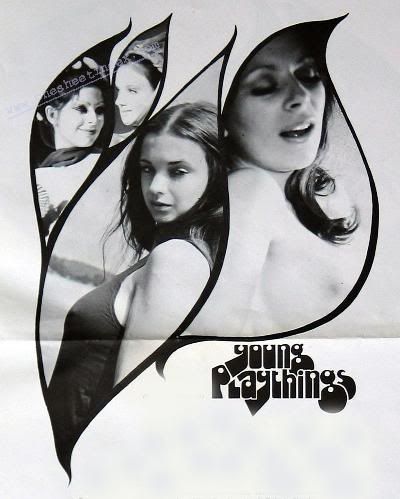 Classic Swedish erotica from American director Joe Sarno
Although this was directed by American (semi-)cult director Joe Sarno, it is also 1970's vintage softcore Swedish erotic, which means that the attitude toward sex is a little more laid-back and wholesome than in American sex films of that era, and the girls are less skanky (and a lot less artificial than the kind of girls that are in these kind of films today). The most familiar and impressive of the actresses involved is Christine Lindberg, who was later in the notorious "Thriller-A Cruel Picture". But Lindberg and the other actresses are either speaking in sync sound or have dubbed their own voices, so that there thick Swedish accents kind of hamper their performances. The initial plot is pure softcore porn contrivance–Lindberg's friend is having a secret affair with her boyfriend and the two of them plot to turn the arrangement into an menage a trois with Lindberg. The boyfriend goes out of town and the friend convinces Lindberg to stay in an apartment with her where she picks up random guys in an effort to seduce Lindberg into three-way.
The plot takes a strange turn though when both girls fall under the spell of an alluring female toymaker who lives next door. The movie then turns into a bizarre, surrealist fantasy (apparently based on a Swedish folktale) and it really manages to lift itself well above the usual level of mind-numbing Swedish erotica. This is one of those rare sex movies that have interest beyond the mere "weasel-milking" aspect. It is largely the movie that made Sarno's reputation (he made only a couple other less interesting ones, then a lot of softcore and hardcore crap). It also confirms his reputation for finding beautiful Swedish women willing to romp around in the nude (besides Lindberg, Sarno also discovered Marie Lilljedahl and Maria Forse, and did much to advance the exploitation career of Swedish-American bra-buster Uschi Digardt). I can say that is literally one of the few sex movies that is truly worth seeing whatever one's reason for watching it.
Near brilliant hybrid of art and softcore porn
I've wanted to see this film ever since reading a lengthy and in-depth essay about it in Re/Search's "Incredibly Strange Films" volume (still one of the finest books on the topic of cult and psychotronic cinema). After being finally able to track it down, I can honestly say it doesn't disappoint. The previous films I'd seen by Joe Sarno all had extremely ambitious ideas behind them and showed him to be an intelligent individual. However, often his directing skills themselves don't manage to live up to his ambitions, making a good deal of his output slowly paced and often seem lacking. "Young Playthings" though isn't beset by these issues. Its a fascinating exploration of human nature and sexuality with a wealth of ambiguity. There's a lot of subtext and symbolism on display here which demands the viewer watch the film several times.
The acting is also very good all around. I'm a huge fan of Christina Lindberg. Not only was she one of the most gorgeous women ever in sexploitation cinema, she also proved to be an extremely skilled actress when the film called for it. Even in her lesser films such as "Anita", shes never anything less than electrifying. "Young Playthings" gives Lindberg her finest role (yes, its even better than "Thriller"). Shes sexy yet naive and sympathetic. Eva Portnoff also does a good job as her seemingly knowing friend who isn't aware of what shes getting herself and Lindberg into. Margareta Hellström as the toymaker offers an ambiguous role which is frightening yet shows the attraction people have to the character. As with most Sarno films, the male characters are unimportant while the females are the main focus of audience attention (the man was quite progressive in his sexual politics). "Young Playthings" is a completely unique film, one of the most successful hybrids of softcore porn and art. It deserves a much wider cult following than it has obtained. Seriously, this'll appeal to intellectual film buffs as well as grindhouse addicts. (9/10)
A surprisingly intelligent sexploitationer from a interesting director
The tagline pretty much sums up what 'Young Playthings' is about. The mindless generation(anno 72) that is trapped in a neverland of strange sexual practices. This piece of erotica directed by Joseph Sarno could unlike other skin flick of the period also gain interest for the art-house crowd. 'Young Playthings' is from his period of Scandinavian tales about ritualistic orgies. It is shot in Sweden with a English script, and stars the sexy Christina Lindberg of the 'Thriller: A Cruel Picture' fame along with a entirely unknown cast of amateurs. Lindberg and her girlfriend decides to spend some days in a rented apartment and have fun together and with the guys they can pick up at the nearby bar. They both fall under the hypnotic spell of a female toy maker living in the same building, and they both slowly gain an addiction to turn back as the performers in the witch's odd and perverse fantasies. These are creepy pantomime plays with naked girls in clown make-up guided by a ghoulish voice on a tape recorder. This experimental imagery is very appealing for its fascinating creepiness. I have to say, 'Young Playthings' is not entirely successful. Some scenes are very repetitive and boring to follow. And the dialog can often be terrible difficult to understand ans is sometimes limited to some unintelligible mumbling! But don't get Me wrong, this isn't a pretentious piece of crap. With it's exploration of sexual frustrations, satisfaction and the intrigues of the psyche it is hard not to be compelled. And the message of this unique sex-pic, if there was one, still seems surprisingly fresh. 'Young Playthings' tells how sex not only is bland physical relations, and that sexual experimentation is an important part of the underlying. A term that still seems rejected these days. A surprisingly intelligent sexploitationer from a interesting director.
http://www.nitroflare.com/view/E98B3933C18E5B9/Young_Playthings_-_Joseph_Sarno_-_LQTape1972.DivX.avi
"http://keep2share.cc/file/5220c9381e370/Young_Playthings_-_Joseph_Sarno_-_LQTape1972.DivX.avi
http://rapidgator.net/file/31d14c9722d772698aa83735a918c4e5/Young_Playthings_-_Joseph_Sarno_-_LQTape1972.DivX.avi.html
no pass